Managing & Disposing of Grass Clippings
Disposing of grass clippings into the solid waste or household recyclables stream is prohibited pursuant to the laws of the State of Connecticut.  Grass clippings are banned from disposal.  So "Don't Trash Grass!"
The best management practice for grass clippings is to leave them on the lawn so they can return valuable nutrients to the soil as they decay.  Bagging and disposing of them costs both taxpayers and municipalities time and money.  If grass clippings are removed, they must be recycled at a facility that is permitted by DEEP to accept them.  The New Haven Solid Waste & Recycling Authority transfer station is permitted to accept and store grass clippings, intermittently, before being transferred to a permitted facility.  Existing leaf composting facility operators must receive a General Permit registration approval before adding grass clippings to their compost sites. (Grass Clipping Disposal Ban – Section 22a-208v of the CT General Statutes)
Mowing Techniques & Tips
Any mower can recycle grass clippings. Simply remove the grass catcher! Ask your lawn mower dealer if a special safety plug or adaptor kit is needed to convert your mower into a "recycling" mower. You can also have a mulching blade installed.
Keep your grass mowed to 2″- 3″ tall.
Do not remove more than 1/3 of the grass blade in any single mowing. For example, if your lawn is kept at 2″ tall, it should not be allowed to grow higher than 3″ before it is mowed again.
Mow when the grass is dry.
Keep your mower blade sharp.

Dull mowers tear the grass blade, injuring the plant, and create a brownish cast to the turf.
If the grass gets just a bit too high, simply mow over the clippings a second time to further shred and scatter them.
If excessive growth occurs between mowings, raise the mower height, mow, and then gradually lower it over a span of several mowings. This will help prevent shock to the plants.
When it's time to replace your mower, consider buying a mulching, recycling, or a non-polluting reel mower. All of these do a good job of shredding and scattering grass clippings.
Recycling's Impact on Greenhouse Gases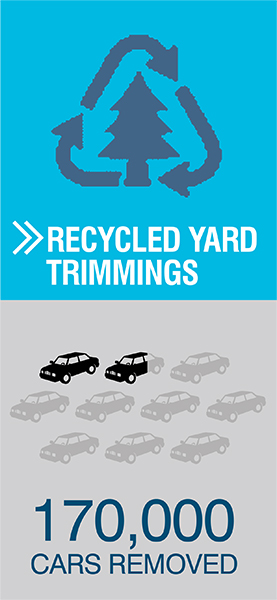 Have all our latest news and important updates delivered right to your inbox!